Fáilte chuig ár suíomh idirlíon !
MAY/JUNE AT KILCOSKAN
We are hosting a Cake Sale on Friday 26th May as a school fundraiser for our End of Year Disco and Graduation Day. If everyone can support by dropping cakes/buns/baked goods into school on Thursday 25th May in the afternoon that would be much appreciated. We will be selling Tea/Coffee and a slice of cake for €3 for parents at the gate from 8.50 to 9.20am - all support as always greatly appreciated. During the day we will have a 'coffee shop' for each class with a selection of small treats and a drink - we are asking for a €3 contribution from each child if possible please.
Our amazing school football team plays in the Fingal Schools Final on Thursday 18th May at 10am. Supporters from Junior Infants to Sixth Class will travel to the game by coach - we would kindly ask for €5 per child to cover the park entrance fee and contribute towards the bus. Adults will be charged an entrance fee of €5 at the gate so please have cash on the day if you wish to attend! UPDATE May 18th - FINGAL LEAGUE CHAMPIONS 2023 - massive congratulations to the team on a brilliant performance and their coaches, Trish, Amy Fisher & Daniel
It's that time of the year again - we need your uniform orders by Wednesday 17th May please. Based on feedback from both children and parents, we have asked for the netting to be removed from the tracksuit bottoms and for a label to be added to the top to allow for a name to be written. The kit comes with a jersey, shorts and socks and the price is €65 - it is not possible to swap out the socks unfortunately. Just a reminder that sizes run at 4,6,8,10,12,13, XS and S. Please text/email Rachel with your child's name, size and quantity required by Wednesday 17th to avoid delays. Anyone who has small sizes that will not be used by siblings is welcome to drop them in and we would be happy to keep them as spares. UPDATE 25th May - ORDERS HAVE NOW BEEN PLACED and cannot be changed
The last of our swimming sessions take place in Finglas over the coming weeks in the new slot of Fridays at 1pm. Please see below for details:
Friday 19th May - Teacher Eoin's 1st & 2nd Class
Friday 26th May - Teacher Trish's 3rd & 4th Class
Friday 16th June - Teacher Ava's 5th & 6th Class
Walk on Wednesday's are back for May and June - meet at the Coolquay Lodge at 8.45am for an 8.50am start to Kilcoskan.
Sports Week takes place from June 6th and we hope to have our Annual Sports Day in St Margaret's on Thursday 15th June, weather dependant. Teacher Amy Fisher and Lorraine will be taking their classes on a special trip on that day.
School Tours take place for Junior Infants to 6th Class's on Friday 9th June - more details to follow on cost and arrangements. Our Small Class's will take their school tour on Tuesday 20th June.
Sixth Class Graduation (5pm) and End of Year Disco (6pm) for the entire school is set for Monday 26 June - more details to follow. Wednesday 28th is our last official day of the term with a finish time of 12pm. We will hold a two day Summer Camp for those interested on Thursday 29th and Friday 30th June.
Can we please ask for any donations of Starlight Readers and Small World books (unwritten) from 3rd to 6th Class as we build up our school supply of books and prepare for next years book scheme.
As always please check our calendar for updates.
JUNIOR INFANT ADMISSIONS 23/24
We will commence accepting applications for admission to Junior Infants for the 2023/2024 school year on Monday 3rd October.
A copy of the school's Admission Policy and the Application Form for admission is available in our Policies & Documents Section https://www.kilcoskanns.ie/parent-zone/application-for-admission/
A copy can be supplied on request by emailing kilcoskansecretary@gmail.com or in writing to: Kilcoskan National School, The Ward, Co Dublin D11 PW92
The following are the dates applicable for admission to Junior Infants:
| | |
| --- | --- |
| 1. The school will commence accepting applications for admission to Junior Infants | 3rd October 2022 |
| 2. The school shall cease accepting applications for admission to Junior Infants | 24th October 2022 |
| 3. The date by which applicants will be notified of the decision on their application for admission to Junior Infants | 16th November 2022 |
| 4. The period within which applicants must confirm acceptance of an offer of admission to Junior Infants | 30th November 2022 |
Further information can be found in the Annual Admission Notice in our Policies & Documents Section.
_____________________
Hi Everyone
Book Lists are now available in our Policies & Documents Section including the Book Haven codes for ordering direct from their website.
Please note school fee's for the year will be €120 per child due in September - this will include all copy books, folders, glue sticks etc. Parents will only need to purchase schoolbooks and a pencil case with colouring pencils, pencils/pens, eraser and sharpener. Everything additional will be provided by the school.
_____________________________
Uniforms
Amy and Rachel have done trojan work on organising a new school tracksuit - they are now in stock in school - if you need info just ring and ask for Rachel 01 8351508
-----------------------------------------------------------------------------------------------------------------------------
We have had a number of enquiries about after school childcare / pick ups for infants . Just to let you know that we have a local childcare centre called Tippytoes situated less than 1km from the school , the brochure is located in the 'policies and documents' section on this website- Click on the policies and documents tab itself to bring you to the brochure .
Some brilliant photos of the school ( and an amazing video ) taken by a drone from the Glenveagh company are on the homepage/news section - the visit was organised to inspire children in school to have a greater interest in the STEM subjects ( Science, Technology, Engineering and Maths )
Dear Parents/Guardians, we are still experiencing problems with traffic and parking in the school grounds . A letter was sent home with the pupils on traffic management around the school grounds . If you require further information please contact us .
Click on the link below for HSE advice on handwashing
https://www.hse.ie/eng/services/list/5/publichealth/publichealthdepts/resources/handwashing.pdf
Kilcoskan NS as you've never seen it before!!
Latest Photographs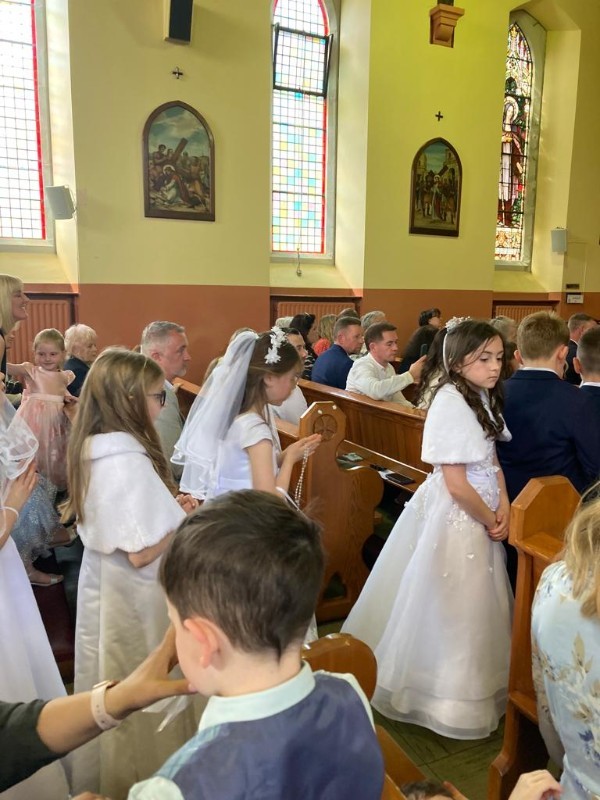 Upcoming Events...
Tuesday, 6th June 2023
Table Tennis with Sam (11-2pm)
KNS Active Schools Week
Soccer Mini League (2nd to 6th Class) (3.30pm Finish)
Wednesday, 7th June 2023
KNS Active Schools Week
Wake up Shake up for Parents/Guardians (9-9.10am in the Yard)
Thursday, 8th June 2023
Fun Run Coolquay Lodge 3rd to 6th Class (Garda supervised) (11am)
KNS Active Schools Week
Friday, 9th June 2023
School Tours (JI-6th Class)
KNS Active Schools Week
Tuesday, 13th June 2023
Soccer Mini League (2nd to 6th Class) (3.30pm Finish)
Wednesday, 14th June 2023
Joe Crowe Cup
Thursday, 15th June 2023
Sports Day St Margarets (weather dependant)
Friday, 16th June 2023
Swimming 5th & 6th Class (1pm)
Kilcoskan National School, Kilcoskan, The Ward Co.Dublin Dublin Phone: 00353 1835 1508